Not logged in

This website build workflow chart shows you a step-by-step look into the process of an all-inclusive web package. It will also help you understand the amount of work required to successfully build a professional, fully functional website.
| | |
| --- | --- |
| | |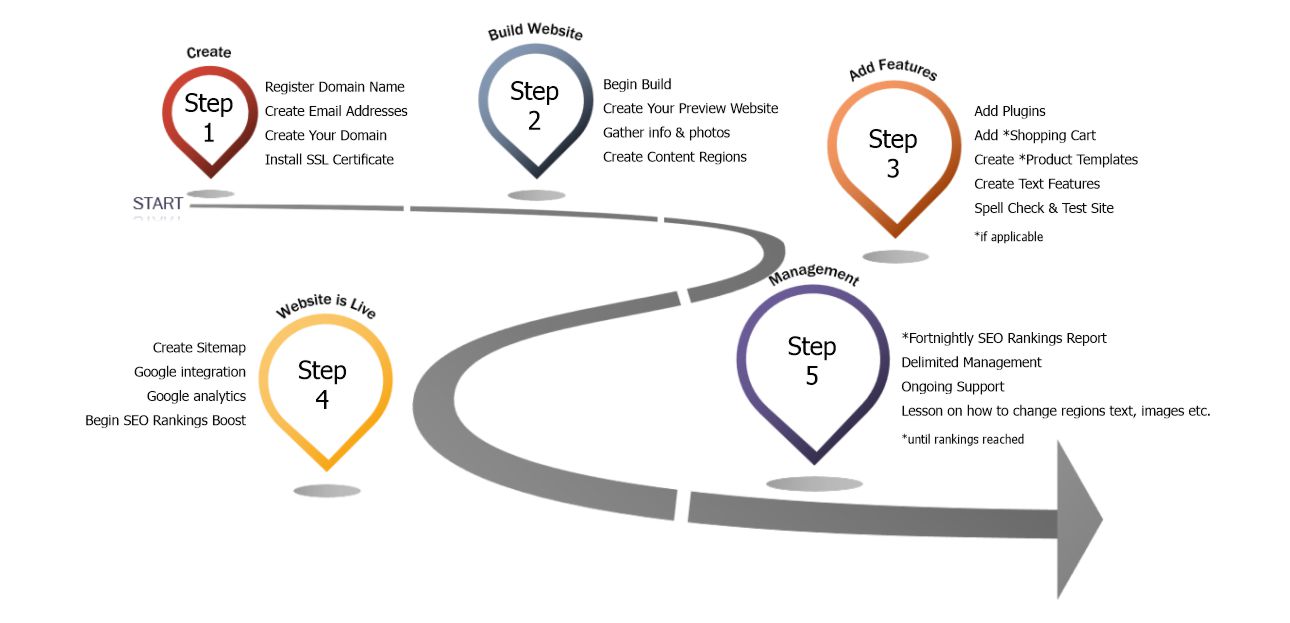 Register Domain Name

We will register a domain name with a "yoursite.com.au" address or if you already have one then we will point your existing name to our server.

Email Addresses

We will create some email addresses for you. Examples are but are not limited to: info@yoursite.com.au or yourname@yoursite.com.au

You will get a webmail link for this so you can send or get emails or we can forward this to another existing address like

yourname@gmail.com

Your Domain

We will set up your domain (yoursite.com.au) on our secure website server, with the required settings & permissions so your site will run smoothly.

SSL Certificate

Your SSL Certificate will be assigned to your site. Your site will then be secured & have a secured padlock showing in browsers so shoppers or visitors to your site will feel safe.

Begin Build

We now begin work on your site & receive instructions from you regarding the colour scheme and any photos that will be added. We will also come up with some suitable graphics and either create a suitable logo or integrate your logo if you already have one into the design.

Preview Website

Once we have a rough design ready, we will send you a link where you can view the scheme we have come up with. We will discuss & make any necessary changes, after which we will seek your approval to lock the design-in.




Once we have locked the design-in, only minor colour changes, photos & tweaks are possible. Any further major changes will incur extra fees & charges.




Your preview link will be available for you to view until the final stage when we move the site to

yoursite.com

.au website address. This way you can view your build site as we add text, plugins & moving text etc..

Info & Photos

We will need your help at this stage & ask that you give us all information we need to place on your site.




We will also help you with wording, this way internet search engines pick up important keywords to get your site higher in website page rankings

Content Regions

Content regions are extra pages with information added about your products or services. This also includes the main / home page.




These areas can be edited by you. We will give you a link where you can log in to edit these regions yourself & which is very handy if you require changes on a regular basis. We will help you & show you how easy it is.




Note: We will manage these regions for you if required on a regular basis but extra fees would apply.




| | |
| --- | --- |
| Add Plugins | We start adding all the fancy features, including but not limited to: moving pictures, ask a question, contact form, newsletter signup etc. |
| Add *Shopping Cart | *If applicable. We will set up your shopping cart & enable all features including but not limited to: Affiliate Options, Loyalty Points, Gift Vouchers, Coupon Codes, Wish Lists/Gift Registry etc. |
| Create *Products Templates | *If applicable. We will show you & set up a few initial categories, products, postage & other templates, to which you can add all your products. |
| Text Features | Some moving & scrolling text features will be added to so customers will notice your site. |
| Check & Complete | Spell check & tweaks & any other minor changes deemed necessary for the launch of your website. Test all features, make a test purchase, check auto emails, correspondence, postage, and pickup & all other applicable settings are working efficiently. |




Move Test Site

Your site is ready to launch & it's time to go live on your

site.com

.au

Google Integration

We'll set up a Google business account so google will find & index your website.

Google Analytics

We will set this up for you & place a tag on your website so you can monitor your website traffic.

Rankings Boost

A clever way to get your website recognized by Google & other search engines than can make your keywords rank high organically (without the need to pay for advertising). We do our best to get rankings above your competitors & it will be valuable for your website




SEO Ranking Report

You will receive ranking reports on a fortnightly basis until your site reaches:

URL (Uniform Resource Locators) 70+

DA (Domain Authority) 50+

Delimited Management

Includes a weekly checkup & backup. Apply plugin & software updates when and if they occur & a small tweak or two if & when required.

Ongoing Support

We will be there to offer help & advice during business hours

Training

We offer initial training at no cost, limits apply.



Your Account
Login Status
Not logged in